Beyond the traditional learning metrics like registrations and completion rates, how can we begin to understand the real impact that online training is having within our organizations?
The Learning and Development Industry
Within the L&D industry, Learning Analytics is becoming increasingly relevant, considered one of the priorities of learning leaders. According to a survey of more than 3,000 training leaders, the top learning priorities for 2021 include:
Reskilling/Upskilling
Social Learning,
and Learning Analytics.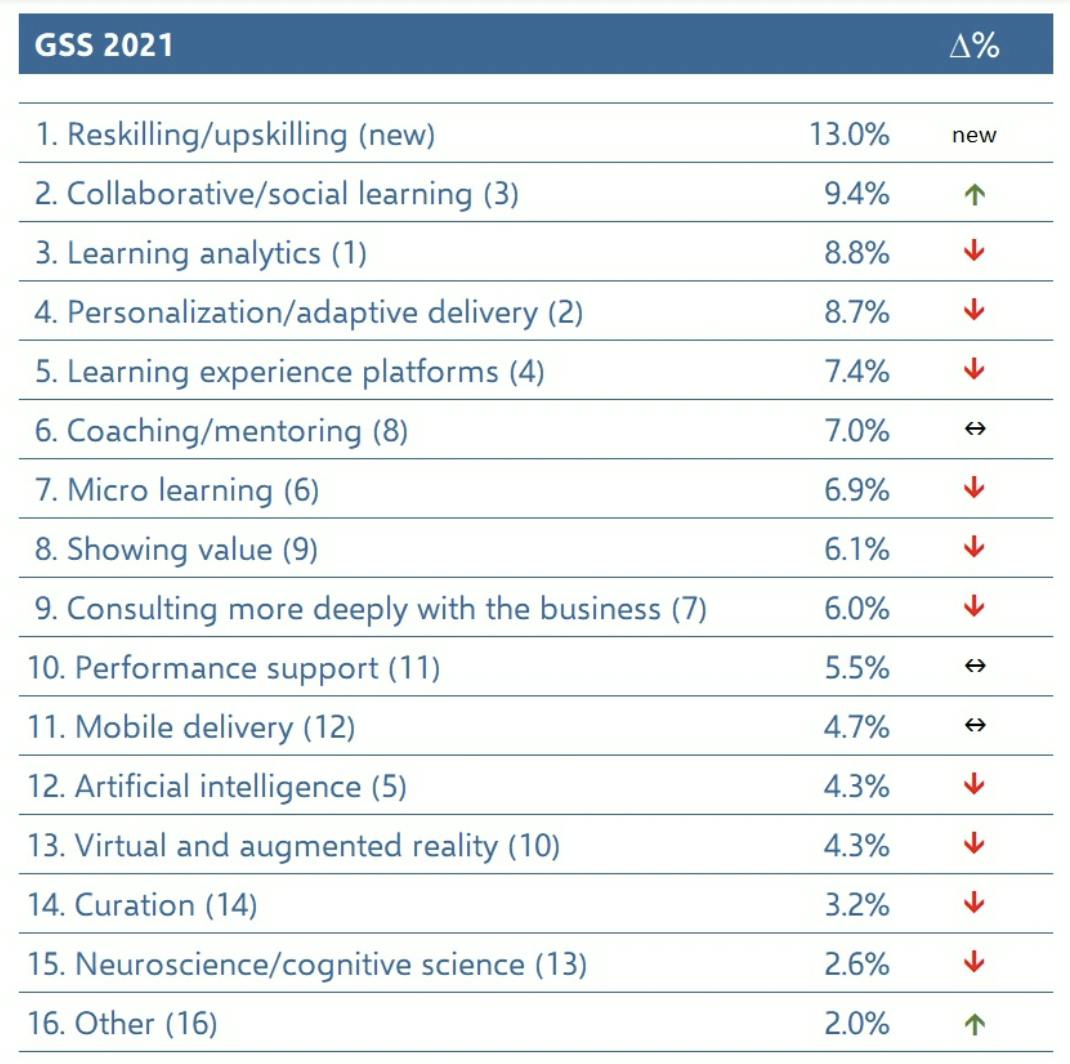 Challenge: Going beyond typical learning metrics
Although Learning Analytics is becoming increasingly relevant, there are still some companies that are resistant to start implementing it. The vast majority of organizations use an ineffective approach to measuring employee learning. Their focus is mainly on completion rates, grades achieved in courses, and student satisfaction surveys (also known as smile sheets). This perspective reveals that learning is measured only in its own efficiency. While this data still matters, it does not give a real picture about the impact of learning on a company, as it does not consider whether behavioral changes and/or improvements in employee performance actually occur.
Brandon Hall Group, a renowned company specializing in research and analysis, yielded the following results in the framework of its Learning Strategy Study:
Only a quarter of companies have robust tools to measure the success of their learning strategies.
59% of companies recognize their inability to measure the impact of learning.
Only 8% of managers see an impact related to training and development programs.
Only 4% of managers see any degree of return on investment in training and development programs.
Why are companies struggling to measure the impact of learning?
According to this same report by Brandon Hall, there are many reasons why companies fail to measure learning in-depth. Basically, the reasons can be categorized into two big groups:
The one shared by most companies alludes to the lack of preparation to perform this type of measurement: lack of metrics, tools, time, or knowledge.
A small percentage of companies indicate that it is due to the belief that it is not so necessary to do it.
Training and development professionals have always wanted to get a real picture of whether training programs help companies achieve their goals. Unfortunately, relying on traditional metrics and models is not enough. To achieve broader data strategy collection and integration, new tools and skillsets may be required.
In most Learning Management Systems (LMS), training and development experts are conditioned and limited by standard reports that are not enough to measure the impact of programs. Despite most of the time, L&D professionals have the knowledge and experience, the problem is they do not have the necessary resources (both human resources as tools) to carry out a comprehensive data collection, which allows them to analyze and extract useful and actionable information. For this reason, it is unusual for professionals in this industry to try to measure the impact of learning programs. Hoisting, but in case of trying, it takes them an enormous amount of time to perform this task.
Luckily, many companies are beginning to understand this need and are changing their attitudes toward measurement and data, looking for tools and technologies that enable them to take really implement learning analytics.
The importance of measuring the impact of learning: its main benefits
By monitoring data, leaders can ask the right questions at the right time. This helps them make well-informed decisions and create learning solutions that have true purpose and value; generating results both for employees and the organization.
The simplest measurements include completion rates, time spent on a course, and behavioral changes. Although these measurements can be somewhat useful, the most valuable information lies in the analysis of larger datasets. Precisely, it is through detailed analysis and integrated reports, where these data allow us to understand the impact of learning programs. To achieve this integration and level of understanding, it is critical to align learning goals, measurement with KPIs, and business objectives.
Without learning analytics, a company has no way of understanding the effectiveness of its learning programs
Measuring the business impact of learning brings with it a big array of benefits, including:
It gives a more in-depth understanding of the impact of learning beyond the traditional measurements (completion rates for instance).
It makes leaders more confident to provide the resources their teams need, rather than having to blindly guess what training materials they really need.
It generates more agile decision-making.
It provides a greater opportunity to continually iterate, allowing leaders to understand what works and what doesn't.
Also read: How to achieve a behavior change in your employees through an eLearning course?
Tips to Maximize and Measure the Impact of Learning Initiatives:
1) Design a learning measurement strategy before starting a program
Start by specifically defining the outcomes you want to achieve and measure, so you can design a learning program that helps create those outcomes.
It's common to hear "increase sales" as an overall training goal. However, it is a valuable use of time to go into detail on these desired goals much more deeply before any training content is designed. What quantitative measure can you use that has the greatest impact on your business? How will you measure success specifically? Your data should answer questions like these:
Did the training help increase revenue or achieve the proposed sales goal? Did it help reduce costs?
What are the areas of the online training program that are most effective and which are you falling short of?
If existing training does not yield good results, what changes are needed to improve it?
How do you know if the specific modules of the course are working?
To answer the main question and the underlying ones, it is important to clarify the relevant metrics that are going to help solve this unknown. But the search doesn't stop there. The success of this task lies in combining the evaluation of training metrics with the evaluation of business metrics. By using both types of data, the impact of training programs on your company can be truly measured.
Also read: 6 different ways to evaluate your students in eLearning
2) Evaluate other metrics
Beyond the classic metrics, there are other variables that can be analyzed in order to evaluate the effectiveness of a program. Here are some ideas:
User activity. This benchmark provides highly detailed and valuable information about employee levels of participation and their reactions to different parts of the training content.
The most viewed course materials. Do certain sections involve students more than others? This variable makes it possible to identify which parts of content students like the most and what is working effectively.
The patterns observed in the student's behavior. This metric helps to find new ways to improve learning experiences for different groups and types of learning. For example: In what areas of the course did people get stuck? Which points in the course provoke the most questions? Do students have difficulties with assessments, in general (questionnaire, exam, activity)?
The number of sessions. Do users return to the same content more than once? This is a key factor to measure if there are support resources to improve work performance.
The exit points. Where do users leave the learning program and why? This metric is very useful to inquire about decreases in the number of participants in the training. It could reveal irrelevant content or a UX design that is unattractive or uncomfortable for the user.
Also read: 5 Reasons Why Your eLearning Programs Aren't Working
3) Use appropriate technology for data collection and analysis
It is vitally important to gather all the data that comes from multiple sources in one place. This makes it possible to review the quality and depth of what was collected and then begin to perform a fruitful analysis of the data, using an appropriate tool or methodology.
One of the most effective ways to carry out this mission is through an LRS.
Also read:
4) Take action: Use the information obtained!
What is the real reason for measuring the impact of learning? It is about making decisions based on useful and valuable information!
Once data is available, training and development teams must be able to leverage that knowledge in the most beneficial and relevant way possible. Whether to demonstrate business impact or to optimize the learning programs, the information obtained must be USED in a systematic way that supports a culture of continuous improvement.
In order for the information collected to be used in the best possible way, we recommend the following:
First, develop reports that are easy to understand. It is essential to focus on the preparation of focused and easy-to-read reports, which in turn detail the information discovered in an attractive way. It should also mention the steps to follow, i.e. how you will use the new knowledge to modify existing approaches.
Secondly, and although it seems obvious it is necessary to mention it: use the information obtained to improve. Getting all the data in one place is of great value not only to understand the areas where employee performance is lacking, but also to quickly take action on improvements to the programs and in the operating processes that support them, and that can have a significant impact on employee performance. The information obtained can then be used to offer highly personalized learning, oriented to individual preferences and levels of competence, thus reducing learning development time and generating efficiency savings for the company.
---
Undoubtedly, implementing learning analytics in an integrated way is a challenge for every company, but if you think about the great benefits it brings with it and the future possibilities that this model implies, you will see that it is a long-term investment. Thinking about the impact of learning TODAY means betting on improved employee performance and business growth for TOMORROW.